Like many seniors, I've reached the stage of life where it's often difficult to remember what I did three minutes ago. Remarkably, memories from years gone by keep surfacing -- like this long-cherished memory of an evening in Los Angeles during November, 1980.
There I was, sitting in a
gay bar
in
West Hollywood
, watching the sun set over the
Pacific Design Center
. The arbiters of taste flocked from the Blue Whale to
The Blue Parrot
in droves. Most looked tired, a bit jaded, and anxious to get home.
But I was on edge. I was about to embark on the
maiden voyage
of the greatest ocean liner ever built by man. When a faux
cowboy
leaned over and whispered in my ear "Don't forget yer
Mae West
in case the ship sinks," I couldn't decide if he was referring to my swell set of knockers or the fact that
buoyancy
is my middle name. That night -- as I drowned in the icy waters off
UCLA
-- proved to be better than any ride in
Disneyland
. I loved every minute of it.
Wilhelm Dieter Siebert
was a composer with a strong background as a
jazz
clarinetist. When his audience participation opera,
The Sinking of the Titanic
, had its world premiere at the
Deutsche Oper Berlin
on September 6, 1979, the work won raves for its production values even if it garnered less ecstatic notices for Siebert's score.
I happened to like Siebert's music more than most. It possessed a tacky quality which suited the occasion to a "T" (as in
Titanic
). In many ways, his opera served as a rude jab at the social customs of pre-World War I
aristocracy
. Together with
Christian Rateuke
and
Hartmann Schmige
, Siebert had crafted a
libretto
that transformed the RMS Titanic's ill-fated maiden voyage into a fierce commentary on a
class society
ruled by
socioeconomic
swindling.
A scene from Oper Bremen's 1991 production of Wilhelm Dieter
Siebert's opera, The Sinking of the Titanic (Photo by: Jörg Landsberg)
Siebert's opera received its American premiere as part of the festivities celebrating the 200th birthday of the city of
Los Angeles
. The production was the real star of the show.
The Sinking of the Titanic
began outside
Royce Hall
as
steerage passengers
(chorus) sang of their hopes for a better life in the
New World
. Following the
launching ceremony
, the audience boarded the Titanic using
gangplanks
placed over the steps outside the auditorium (chorus members were brutally shoved off the
First Class
gangway).
The front entrance to UCLA's Royce Hall (Photo by: Drew Clayton)
Once inside the auditorium, the opera unfolded in several different playing areas:
Promenade Deck
, First Class Cabin, the
Bridge
, the
wireless
cabin, and the caged quarters for the Titanic's steerage passengers.
Halfway through the evening, the audience was invited to join the ship's ball in the
Grand Salon
(onstage). After a terrible crash was heard, the real fun began. The audience's trek (through
wreckage
, down smoke-filled stairs, over bleeding bodies, past
strobe lights
,
wind machines
, and screaming steerage passengers) was a fantastic accomplishment by director
Winfried Bauernfeind
.
As
Second Class
passengers (the audience) waited in the "icy waters" beside Royce Hall's
loading dock
, the President of the
White Star Line
forced his way into a
lifeboat
(
J. Bruce Ismay's
behavior was rudely booed as only a villain deserved). The lifeboat eventually left the side of the ship (Royce Hall) and was drawn through the crowd at eye level. Meanwhile, members of the chorus worked their way through the audience as the vocal ghosts of those who had drowned, providing a chilling contrast to
Lady Astor's
final
monologue
(sung atop a
forklift
).
Poster art for a French production of Wilhelm Dieter Siebert's
audience participation opera, The Sinking of the Titanic
For those, like myself, who are
ocean liner
fanatics, the opera was great fun. Here was a chance to relive history by participating in one of its most legendary
maritime disasters
. The experience also served to fulfill some outrageous fantasies. When all those freshly scrubbed sailors kept putting their arms around me and directing me to the
Boat Deck
, my fingers began to twitch with the desire to return their embrace. However, unable to find any indications in the score for groping the crew, I decided to cooperate with the orderly evacuation of the doomed White Star liner (popularly hailed as "the ship that God himself could not sink").
The cast had a perfectly seedy time onstage. As
Denver
society's "unsinkable"
Molly Brown
, Dorothea Weiss looked like a porky little version of
Renata Scotto
as she attempted to strike up a feeble conversation with
Benjamin Guggenheim
in her aria "Art is so exciting, isn't it?" Guggenheim and
John Jacob Astor IV
were more concerned with the relationships between art and money.
David Knutson
shone as the singing and tap-dancing Second Officer
Charles H. Lightoller
.
William Dooley
acted as a dramatic catalyst in the role of reporter Frank Holloway. Molly Brown's maid (
Vera Little-Augustithis
) did a grand
spiritual
/
vaudeville
turn as "one of America's real live
Negro
women."
The Sinking of the Titanic
was one of the most exciting theatrical experiences I can remember. The mixture of reliving history in the form of an audience participation opera proved to be a grand thrill. If there's ever a performance in the Bay area, I'd gladly drown again for the sake of art!
* * * * * * * * *
Those who work as
museum docents
and
tour guides
have absorbed such a wealth of information about their subject that they cannot wait to share their knowledge with others. However, when audiences are unresponsive, they can become irritated and may try to provoke a question and answer session.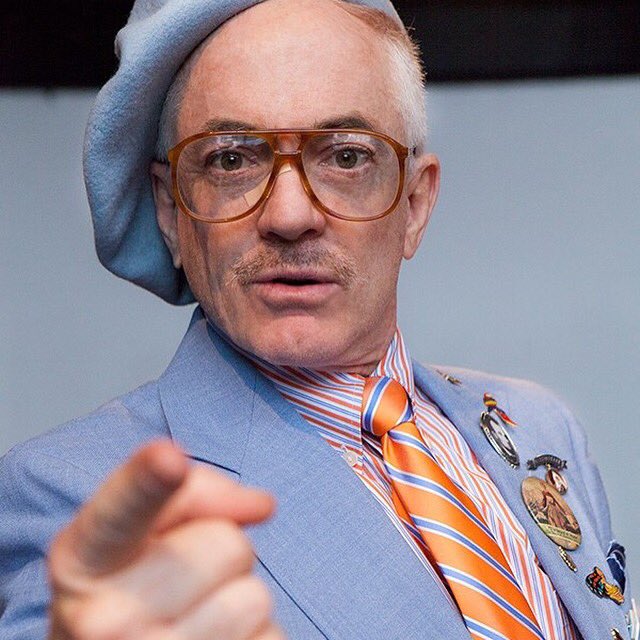 Danny Scheie stars in A House Tour of the Infamous Porter
Family Mansion with Tour Guide Weston Ludlow Londonderry
(Photo by: Julie Schuchard)
Many years ago, a man who narrated sightseeing bus tours of
San Francisco
told me about the day he became so frustrated that he decided to play a trick on his audience to see if they were actually listening to him. As the group stood atop the scenic outlook on
Twin Peaks
, he waved his arm toward the Bay, indicating where they would find the
San Francisco-Oakland Bay Bridge
and
Alcatraz
.
Then, without missing a beat, he said "Over there is
Angel Island
. Angel Island
used
to be one of the
Hawaiian Islands
, but it was towed here last year and is on its way to
Arizona
." No one dared to challenge him.
Danny Scheie stars in A House Tour of the Infamous Porter
Family Mansion with Tour Guide Weston Ludlow Londonderry
(Photo by: Julie Schuchard)
If you've taken a sightseeing tour lately (or visited a major museum), you may have noticed that many of the dedicated tour guides who tried so hard to entertain and educate their audiences have been replaced by rentable digital devices that can provide audio tours in several languages without any need to worry about scheduling people to share their knowledge and enthusiasm with curious travelers.
Danny Scheie stars in A House Tour of the Infamous Porter
Family Mansion with Tour Guide Weston Ludlow Londonderry
(Photo by: Julie Schuchard)
What has gone missing is the passion of the decent docent (a unique variable that can range from scholarly lectures to impassioned
diatribes
by
cult
-like art worshippers who have finally found a venue in which they can shine).
Imagine an aspiring actor who freezes at auditions but blossoms when leading small groups through an art collection; someone whose wounded ego craves the social validation that comes with informing others about so much that they could never have possibly known.
Imagine a performer who, stripped of his props and narrative, might very well be a lonely introvert whose backstory lacks anything as rewarding as his day job.
Imagine a man of no importance in his private life who nevertheless thrives when given a chance to impart historical gossip to an audience preconditioned to believe every word he utters.
Working with the folks at
ZSpace
, Bay area playwright
Peter Sinn Nachtreib
recently premiered a 90-minute piece of
immersive theatre
which defies all rules and is guaranteed to offend those who need to be offended.
A House Tour of the Infamous Porter Family Mansion With Tour Guide Weston Ludlow Londonderry
takes its audience of approximately 50 guests on an adventure few will find easy to forget.
Danny Scheie stars in A House Tour of the Infamous Porter
Family Mansion with Tour Guide Weston Ludlow Londonderry
(Photo by: Julie Schuchard)
Written for
Danny Scheie
(a Bay area actor with great comic timing and a gift for taking matters over the top and far beyond),
House Tour
allows its protagonist (a somewhat manic man whose self importance comes from his proximity to the great wealth that was once lavished on sordid lives and tacky objects) to alternately charm, browbeat, and befuddle his charges as he guides them through an environment designed by
Sean Riley
and lit by
Drew Yerys
, with sound design by
Madeleine Oldham
.
The house in question is the former home of Hubert and Clarissa Porter, a fabulously wealthy and decidedly eccentric couple whose laboratory of sexual athletics has been memorialized in a glass case display of "The Stick of Butter That Changed Everything." As the playwright explains:
"Equality is not the same thing as being the same as everyone else. This play is a celebration of abnormality. A tribute to those who find joy in acts others find shameful. A salute to those who will never be able to fit into any 'new normal' (nor would they want to if they could). Being a playwright in residence here for the past three years has allowed me to take some big risks and push outside my own box of tricks. I loved being able to write something specifically for this enormous venue and to write something specifically for the brilliant actor, Danny Scheie. I hope this piece, in some small way, has stirred your own inner misfit and instilled it with power. May we all have a secret room."
While Nachtreib's perversely hilarious script wastes no time embracing the absurd, it takes a professional ham like Danny Scheie to do it justice. Scheie deliver his lines with the proper amount of acid-tinged
condescension
while dropping gossipy morsels about the social horrors inflicted on Hubert and Clarissa after their diaries were stolen and made public (Hubert religiously recorded
every
detail of
every
orgasm). Add in Scheie's in-your-face glee as he layers his descriptions of various, bizarre
objects d'art
with multiple layers of sexual
innuendo
and you'll understand why this particular house tour stands in a class all its own.
Whether being herded into a bathroom to enjoy "lotion and cookies" or being encouraged to "stroke the walls" in order to get the full experience of the Porter Family Mansion, Scheie's mercurial tour guide ricochets between fawning worship and caustic
bullying
as he leads his charges around the many rooms of the Porter Family Mansion in a
bravura
solo performance.
Danny Scheie stars in A House Tour of the Infamous Porter
Family Mansion with Tour Guide Weston Ludlow Londonderry
(Photo by: Julie Schuchard)
If I can offer one suggestion to director
Jason Eagan
, it would be to allow more seating in the various rooms as some audience members have difficulty standing for long periods of time. This particularly applies to the pivotal sequence following the "lotion and cookies" experience. Performances of Nachtreib's
tour de force
(perhaps it should be called a "tour de
farce
"?) continue through April 23 at Z-Space (
click here
to order tickets). One can only hope and pray for frequent revivals.
* * * * * * * * *
The
San Francisco Playhouse
has moved performances of its
Sandbox Series
of new works to the Rueff Theatre (a
black box performance space
above
American Conservatory Theatre's
newly-restored
Strand Theatre
on Market Street). As part of the
National New Play Network's "Rolling World Premieres"
program, the company recently staged
Steven Dietz's
prickly
hostage
drama entitled
On Clover Road
with the audience seated on opposite sides of the playing area.
Kate (Sally Dana) desperately hopes to rescue her daughter
from a cult in On Clover Road (Photo by: Rebecca Hodges)
The play begins with a nervous confrontation in a seedy room at an abandoned
motel
. Kate (
Sally Dana
) is a desperate and emotionally exhausted woman whose 14-year-old daughter ran off to join a cult several years ago. She has come to the motel in the hope that Stine (
Michael Storm
) can rescue her Jessica from the grip of the cult's charismatic leader, a former insurance salesman.
Stine, however, needs to toughen Kate up until she is ready to be face the challenges of being reunited with a daughter who, having been severely
brainwashed
, is likely to reject her. As a
private investigator
, he's also uncovered some critical facts that Kate has kept secret. The most important one is that Jessica's grandparents had set up a trust in her name which only Jessica could access after she turned 18. That birthday is fast approaching.
The Girl (Rachel Goldberg) is interrogated by a private investigator,
Stine (Michael Storm), in a scene from On Clover Road
(Photo by: Rebecca Hodges)
From the very beginning of Dietz's play, one senses that there are plenty of loose threads to this story. Not only was Kate far from an ideal mother (she had a tendency toward heavy drinking), she never once attempted a background check to see if Stine was legit. Stine's story about how he holds the cult leader responsible for his daughter's death (and the collapse of his marriage) might be true. And then again, it might not. As the company's artistic director,
Bill English
, explains:
"What really made me jump at the chance to produce On Clover Road was not so much the fact that it is a thriller (which I love) or that it delves into the scary world of cults, runaways, and deprogramming (which are hot topics), but the way Steve Dietz portrays the power of a mother's love and the super-human lengths to which a mother will go to protect her child. When I first read On Clover Road, it reminded me of The Mothers, by Farley Mowat. Not a thriller, but an account of the Donner Party that accurately portrays the truth that, amidst all of the horror of that winter, it was the mothers who brought through the survivors. They made decisions and performed the impossible when the men were running uselessly around in the snow.

Perhaps a mother's love is the most potent force in life. I hadn't read another account of motherly love as powerful until On Clover Road came my way. It is, of course, a thriller, with twists and turns, revelations and shocks, and the important themes of how children can be seduced by the power of cult leaders and how desperate parents can resort to the morally questionable act of kidnapping them back. But in the end, On Clover Road is most powerfully the story of a mother, and what a tortuous journey she is willing to take to recover her daughter."
Tied up by cult leader Harris McLain (Adam Elder), Kate
(Sally Dana) begs The Girl (Nancy Kimball) for help in a
scene from On Clover Road (Photo by: Rebecca Hodges)
Directed by
Susi Damilano
,
On Clover Road
depicts a fierce
tug of war
between the forces of
innocence
/
naivete
and
corruption
/
evil
. Working on a unit set designed by Jacquelyne Scott (with fight choreography by
Mike "Miguel" Martinez
), the drama was sufficiently intense to have two women in the audience moaning "No! No!" as the pressure started to mount.
The Girl (Nancy Kimball) and Stine (Michael Storm) return to the motel
room in a tense scene from On Clover Road (Photo by: Rebecca Hodges)
I tip my hat to Damilano and her ensemble, who managed to sustain a growing sense of despair and terror with solid acting. In addition to Michael Storm and Sally Dana, the cast included
Adam Elder
as the slick, manipulative cult leader and
Nancy Kimball
and
Rachel Goldberg
as two of the teenage girls who had fallen into his clutches.
Kate Hunter (Sally Dana) tries to jog the memory of The Girl
(Rachel Goldberg) with a game of cat's cradle in a scene from
On Clover Road (Photo by: Rebecca Hodges)
Performances of
On Clover Road
continue through April 16 at the Rueff Theatre (
click here
to order tickets).