One thing is clear: This year's Presidential campaign has been marked by an excess of
privilege
, an
echo chamber
of multi-dimensional hate (
racism
,
sexism
,
anti-Semitism
,
homophobia
,
Islamophobia
), and a
clown car
of smug, unqualified, and supremely ignorant
Republican candidates
determined to inflict their religious
ideology
on America's
cultural melting pot
. Driven by
hubris
and their lust for
dominance
, these people have armed themselves with so much
misinformation
that they have no idea how
toxic
their influence has been on the voting population. The
Merriam-Webster Dictionary
defines affluenza as:
"The unhealthy and unwelcome psychological and social effects of affluence regarded especially as a widespread societal problem -- extreme materialism and consumerism associated with the pursuit of wealth and success and resulting in a life of chronic dissatisfaction, debt, overwork, stress, and impaired relationships."
Although wealth and
political power
can often be used to protect some people from childhood insecurities and inconvenient truths, it's easier than most people imagine to wrest control of the
narrative
from their terrified hands. All it takes is a little bit of research to find the critical faults in their fragile
manifestos
.
While
sycophants
feed overweaning
narcissism
by telling people what they really
want
to hear (as opposed to what they really
need
to hear), investigating a person's
backstory
can lead to the discovery of their
Achilles' heel
.
Mel Brooks
has spent decades mocking
Adolf Hitler
as a way of robbing
Nazism
of its cultural power.
John Oliver
did a beautiful job of devaluing the
Trump
empire's
brand
by revealing that the Republican candidate's former family name was
Drumpf
.
Tightly held secrets often resist the determined
compartmentalizing
efforts of
control freaks
. In some instances, the emotional damage can be kept to a minimum. In others, it can be too hurtful to accept. Bottom line: The person who has everything may not have
peace of mind
.
* * * * * * * * *
Nick Corporon's
beautiful new film,
Retake
(which will receive its world premiere at the 2016
Frameline Film Festival
) is a case in point. A small
indie film
that slowly disarms a control freak's meticulously constructed sense of privilege and power, its story pits a handsome, healthy, well-educated gay man against an impoverished
male prostitute
with stronger
survival skills
and an abundance of
street smarts
.
Upon his arrival in
San Francisco
, Jonathan (
Tuc Watkins
) is a gay man with a mission: intent on a hiring a hustler who can help him live out a carefully-delineated fantasy. His
audition
process has been meticulously planned. The young man is to spray his body with a favored
cologne
and, if necessary, don a
brunette
wig. A soulless,
peremptory
fuck will determine if Jonathan has found someone who can act "a bit temperamental and rough around the edges." A younger man who Jonathan can "fix."
Poster art for Nick Corporon's Retake
The first hustler he picks up, Scotty (
Kit Williamson
), proves to be crass, utterly lacking in subtlety, and an obvious mismatch. His second hookup (
Devon Graye
) is much better tailored to Jonathan's plan to accompany him on a
road trip
to the
Grand Canyon
. The hustler will be paid double his nightly rate and receive a $1,000 bonus at the end of the trip. Needless to say, Jonathan (who is obviously into
role-playing
) has developed a strict set of ground rules.
The hustler must pretend to be someone named "Brandon" for the entire length of the trip.
The hustler must obey all of Jonathan's orders.
The hustler must never ask Jonathan any personal questions.
Devon Graye as a street hustler in Retake
For a lonely young man who was kicked out of his home as soon as his parents learned that he was interested in
sucking cock
, Jonathan's offer is a no-brainer. It offers food, drink, and several nights in a clean bed. The only problem is that the new "Brandon" is a whole lot smarter than he looks and far more
intuitive
than Jonathan might ever become.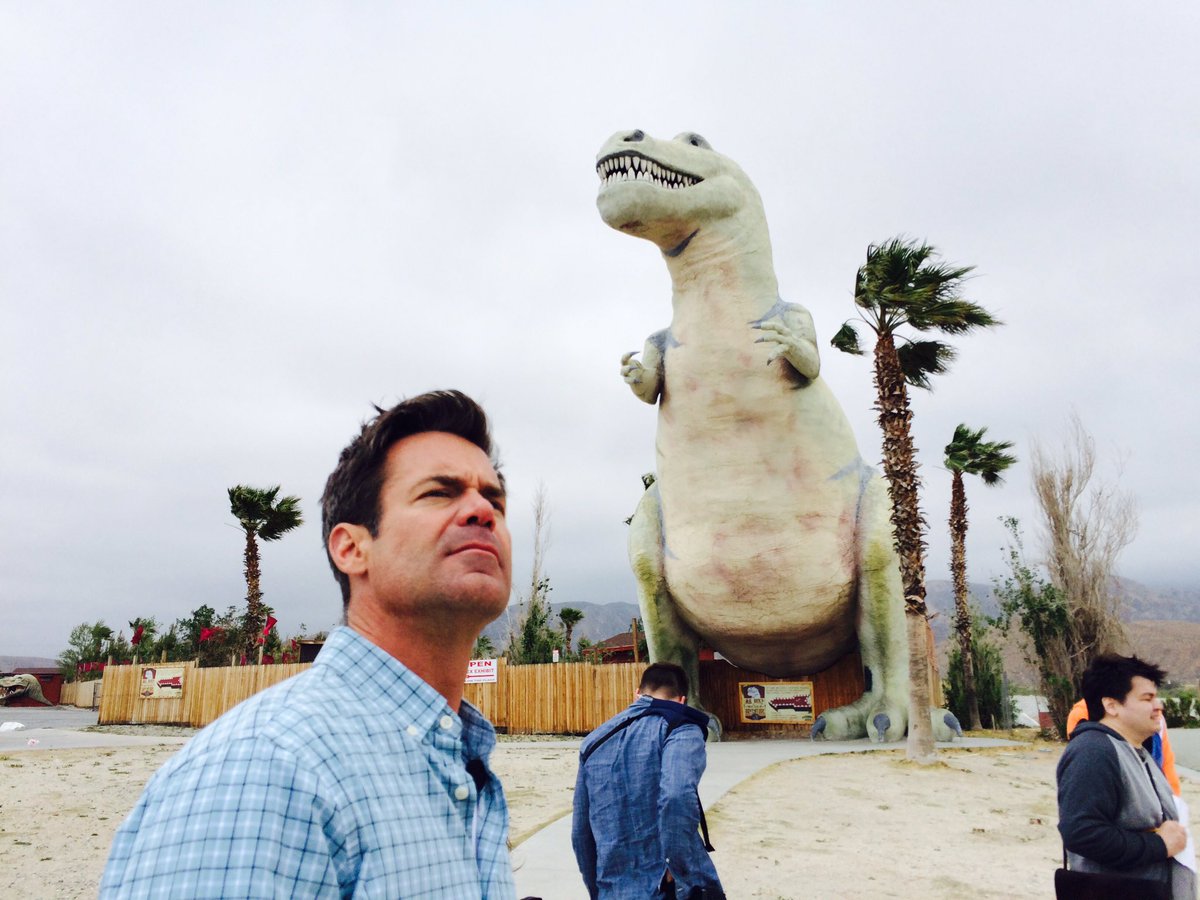 Tuc Watkins as Jonathan in a scene from Retake
Thus,
Retake
becomes a very different kind of road trip adventure in which there is a slow but steady transfer of power between the two men based on the amount of information "Brandon" is able to glean from various sources. Each day "Brandon" awakes to a new set of clothing that has been laid out for him before Jonathan left their
motel
room to get some coffee. Each night the sex becomes less mechanical and more tender.
The hustler quickly realizes that Jonathan is a fearfully
lonely
man wrestling with a
broken heart
who is trying to relive the final days of a previous failed relationship in a precision-driven
laboratory experiment
that includes taking
Polaroid photos
of the new "Brandon" in seemingly insignificant poses.
Tuc Watkins and Devon Graye in a scene from Retake
Whereas Jonathan has a well-toned body, money to spare, and thinks he can control the situation simply because he's paying the young man for his time, the sad truth is that he's an emotional train wreck who does not like to be told when he's acting like a real asshole. The irony, of course, is that the hustler (who has learned how to reinvent himself for each new trick) holds the key to ending Jonathan's emotional
mummification
.
Devon Graye and Tuc Watkins in a scene from Retake
Viewers won't hear any chirpy renditions of
Rodgers & Hammerstein's
"
Getting To Know You
" as Jonathan and "Brandon" travel down the lonely highways leading toward the Grand Canyon. Instead, they'll witness a slowly-paced attempt at role-playing mixed with the subversively intellectual seduction of two emotionally damaged men where one has a traditional masculine need to be in control and the other has nothing left to lose.
Tuc Watkins and Devon Graye in a scene from Retake
I first became aware of Tuc Watkins when he was playing Malcolm Laffley on the exquisitely written, beautifully acted, and deliciously directed TV series entitled
Beggars and Choosers
(which
Showtime
cancelled after two seasons due to poor ratings). Since then, he has always struck me as an actor whose physical beauty provides an appealing gateway into a rare depth of internal acting and sensitive characterization. Devon Graye offers a shrewd counterweight as a young man who lacks the financial security and professional power that Jonathan has acquired, but has the mental agility to play along with the older man's
scenario
until the moment when he needs to wrestle the reins from his client's grip and take control of the situation.
One evening, as the two men are enjoying a late night kiss during a nude dip in their motel's swimming pool, they are joined by an
interracial couple
(played by
Sydelle Noel
and
Derek Phillips
) who make no judgments about their relationship. When the two couples next encounter each other in a bar, many shots are consumed, Jonathan lets down his guard far enough to get up and dance, but the following morning he can remember nothing about what happened.
Corporon's film never rushes the narrative, allowing Jonathan and his hustler to slowly learn how to accommodate each other's needs. Beautifully acted and directed with great sensitivity to the tortured souls trapped inside many gay men,
Retake
portrays a
sex worker
as the real adult in the room (rather than a
predator
or the proverbial
hooker with a heart of gold
). Here's the trailer.
* * * * * * * * *
On rare occasions, an audience's perception of a play can change dramatically over a period of time. When
John Guare's
dramedy,
Six Degrees of Separation
, premiered on May 16, 1990 (with a cast headed by
John Cunningham
,
Stockard Channing
, and
James McDaniel
), the jokes in the script delivered the intended laughs. However, the thought that a young
African-American
con man could so easily infiltrate an upscale circle of friends by pretending to be
Sidney Poitier's
son was taken seriously as a warning about how trusting and gullible some people can be.
Ouisa (Genevieve Perdue) and friends search through Sidney Poitier's
autobiography for clues about Paul' in Six Degrees of Separation
(Photo by: Jay Yamada)
Guare's play ran for 485 performances and became a finalist for the 1991
Pulitzer Prize for Drama
. In 1993, a film adaptation was released starring
Donald Sutherland
, Stockard Channing, and
Will Smith
, with
Ian McKellan
as Geoffrey Miller and
Kitty Carlisle
,
J.J. Abrams
, and
Anthony Rapp
cast in supporting roles.
The
Custom Made Theatre
recently unveiled a new production of
Six Degrees of Separation
directed by
Stuart Bousel
on a unit set designed by
Ryan Martin
. While the action still takes place in
New York
in 1990, the audience's reaction to the play was noticeably different on opening night.
In many scenes, Guare's drama (based on a real-life story) was treated as a comedy about the naiveté of social elites who know how to wheel and deal in order to secure a $2 million investment in a painting by Cézanne but can barely negotiate a conversation with their own children.
There was a noticeable lack of shock that a lonely, amoral gay man who had been ignored by a group of "cool kids" during his college years could be so willing to divulge their family backgrounds to a con man in exchange for a steady supply of black cock.
When the wealthy victims attempt to report what has happened to the police, they are stunned to discover that, because they had (a) given the con man the keys to their apartment and (b) he had not stolen anything from them, they lacked any grounds to press charges. A cynical audience found this quite amusing.
Matt Weimer as Flan in Six Degrees of Separation
(Photo by: Jay Yamada)
With all due respect to the
six degrees of separation theory
originally explained in 1929 by
Frigyes Karinthy
, what changed that caused today's tech-savvy audience to react so differently to Guare's play than an audience might have in 1990?
Genevieve Perdue as Ouisa in Six Degrees of Separation
(Photo by: Jay Yamada)
In the following video clip, actor
Kevin Bacon
explains how a popular
parlor game
using his name took on a life of its own and eventually helped to develop a powerful
fundraising
tool.
With the maturation of the Internet and the increasing use of
social media
, it's now much more possible to track a person's six degrees of separation from another human. As a result, the audience for Custom Made Theatre's production has a much deeper understanding of how the world has grown more interconnected than Guare's characters could ever have imagined in 1990.
The production benefitted from
Matt Weimer's
portrayal of the art dealer Flan Kittredge,
Genevieve Perdue's
touching portrayal of his well-intentioned wife, Ouisa,
Carl Lucania's
work as their
South African
friend, Geoffrey, and
Karl Schackne's
appearance as the overly trusting Dr. Fine.
Kyle Goldman
drew laughs doubling as both an aggressive hustler and Flan and Ouisa's son.
Rick (Sam Bertken) and Elizabeth (Alisha Ehrlich) are a naive young
couple who befriend Paul in Six Degrees of Separation
(Photo by: Jay Yamada)
While
Sam Bertken
and
Alisha Ehrlich
had a wistful appeal as the trusting young couple so easily hoodwinked by
Khary Moye's
subtly manipulative Paul, it was
Richard Sargent's
characterization of Trent that brought a touch of gritty reality to the story.
Paul (Khary Moye) gets some valuable information from Trent
(Richard Sargent) in a scene from Six Degrees of Separation
(Photo by: Jay Yamada)
Bottom line: People can usually be trusted to hear what they
want
to hear rather than what they
need
to hear. Performances of
Six Degrees of Separation
continue at Custom Made Theatre through June 18 (
click here
for tickets).