Warped minds tend to make bad decisions. When Americans learn about the traditional
mutilation of female genitals
and the
honor killings
that take place in other cultures, they express horror at the thought of such primitive acts. Even after they have convinced themselves that "others" are murderous
barbarians
, many retain a perverse ability to ignore their own culture's dark moments of
depravity
while asking how people in other societies can do such horrible things.
On June 12th, when
Omar Mateen
went on a killing spree at the
Pulse nightclub
in
Orlando
, it didn't take long for the media to exploit his supposed loyalty to
ISIS
(expressed in a phone call with police) by painting him as a maniacal
Muslim terrorist
. Yet many
LGBT
people, upon hearing the news and learning more about the American-born Mateen's troubled past and stressful marriages, had no difficulty understanding that the cause of his murderous actions might well have been
internalized homophobia
.
Living with high levels of
self-loathing
and
shame
is a constant struggle for people whose
cultural values
have been perverted by
racism
,
sexism
,
politically-motivated hate groups
, and
organized religion
.
Whether people commit such heinous acts out of
jealousy
,
mental illness
, because they've lost all hope, or because
Jesus
told them to do so, doesn't really matter. Because we live in a society that
fetishizes
guns and will often resort to
violence
as a means of solving simple problems,
headlines
will never lack stories about
serial killers
,
drone attacks
,
hate crimes
, and
wartime atrocities
. Sadly, making people pay for their crimes is not as much fun as
Gilbert and Sullivan
once thought it could be.
* * * * * * * * *
While the
LGBT movement in North America
and parts of
Europe
has rapidly progressed to the point of legalizing
same-sex marriage
, trying to secure equal rights for transgendered people, and making it easier for gays and lesbians to
assimilate
into society (
Canadian Prime Minister Justin Trudeau
marched in
Toronto's
2016
Pride parade
), a film about two severely
repressed
gay men in
Caracas, Venezuela
won the prestigious
Golden Lion Award
at the 2015
Venice International Film Festival
.
Poster art for From Afar
Originally seen at the 2016
San Francisco International Film Festival
,
Lorenzo Vigas's
movie,
From Afar
, focuses on a part of gay life usually found in the writings of
John Rechy
, the art of
Tom of Finland
, or certain areas of
gay porn
: a gay man's fetish for sex with
rough trade
. Armando (
Alfredo Castro
) is a 50 year-old man who works in a lab making
dental prosthetics
. A loner by nature, his sexual routine is well-established and follows a very specific script. He likes to pick up a
hustler
, bring him back to his apartment, have the young man take off his shirt, drop his pants below his
buttocks
, and stand on the other side of the room while Alfredo sits in a chair masturbating. There is no kissing, no affection, just a quick exchange of money and, if Alfredo is lucky, no violence.
The first young man Armando is seen picking up (Jeralt Jimenez) is a bit of a disappointment. But when Armando spots the 17-year-old Elder (
Luis Silva
) hanging out with members of his gang in a public square, he's intrigued by the young man's energy and obvious sex appeal. What follows is a
cat-and-mouse game
between two men who grew up with abusive fathers, no role models for how to embrace their
homosexuality
, and no concept of what it means to love another man.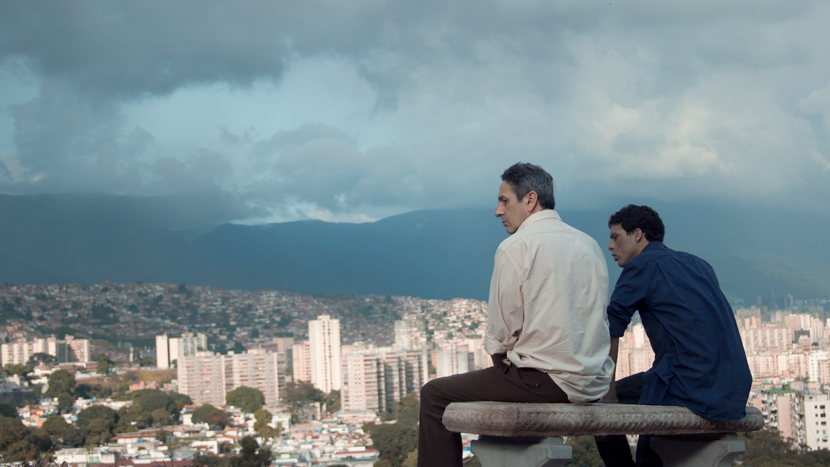 Alfredo Castro and Luis Silva in From Afar
Armando leads a quiet life, occasionally visiting his sister (Catherina Cardoza) and brother-in-law (
Jorge Luis Bosque
) and still haunted by the abuse he suffered at the hands of his father (a judge who has recently returned to Caracas). Silva has a girlfriend, is poor, and is more interested in hanging out with his friends than raising a family. Although he works at a
chop shop
helping to repair automobiles, he cannot yet afford one of his own.
The first encounter between the two men ends violently as Elder's sense of
machismo
erupts into blatant
homophobia
. But Armando is persistent,
stalking
the young man and even following him in a taxi. As time passes, Elder becomes more willing to visit Armando when he needs money. When Armando offers to pay for the car Elder has been working on in his spare time, it adds a new layer of dependency to their relationship.
Luis Silva as Elder in From Afar
Elder's friends, however, are not too thrilled with his behavior and, when they beat him up, the only place he can seek help is Armando's apartment. After tending to the young man's wounds with surgical precision, Armando undresses Elder and puts him to bed (opting to sleep on the couch while the young man recovers). However, when given the opportunity, Elder is like a feral child, searching Armando's apartment for money and clues about the older man's past.
As he recovers and grows to learn that money is less of an issue for Armando than it is for him, Elder decides to take Armando out into the countryside to meet his mother (
Jerico Montilla
) at a Sunday gathering. While the mother doesn't ask any questions about their relationship, after Elder has had a few drinks he clumsily tries to make out with Armando in the men's room. Armando instantly pushes him away and slaps the young man in the face, hissing "Not here."
Alfredo Castro and Luis Silva in
From Afar
As the two men describe their feelings toward their fathers, Armando confesses that he would be just as happy if his father were dead. One day, as they are driving around town, he points his father out to Elder as the white-haired judge enters an office building with some colleagues. Several nights later, Elder enters Armando's apartment and, like a cat bringing a dead mouse to its owner, lays some bullet shells on the table and informs Armando that he no longer has to worry about his father.
Luis Silva and Alfredo Castro in
From Afar
From Afar
is not the kind of film that will be hailed for its snappy dialogue. Much of the camera work follows Armando as he lusts after Elder or nurses the young man back to health. When the two men eventually have sex (at Elder's insistence), it's a clear turning point which rapidly accelerates to a surprise ending. What soon becomes evident is that, even when he least wants it, Armando feels compelled to tie up loose ends with clinical precision. In the long run, Vigas's film will probably be most noticeable for the professional debut of Luis Silva, a burning screen presence with a bright future. Here's the trailer:
* * * * * * * * *
When one thinks of
wicked stepmothers
in literature, the two women who instantly come to mind are
Snow White's
evil stepmother (whose
megalomania
focuses on remaining "the fairest in the land") and the selfish
social climber
who married
Cinderella's
father after the death of his first wife. Squatting over a third seat of
shame
is Kostelnička, the haughtily dysfunctional
matriarch
in
Leos Janacek's
third opera.
The
San Francisco Opera
recently staged
Jenůfa
in a production borrowed from the
Hamburg State Opera
that features
Frank Philipp Schlössmann's
thrilling sets (which put a whole new frame around
postpartum depression
). Their dramatic impact was heightened by
Gary Marder's
lighting. Directed by
Olivier Tambosi
with an acute sensitivity to the title character's
loneliness
and
emotional pain
, this powerful production would be a highlight of any opera company's season. The performance was magnificently conducted by
Jiří Bělohlávek
, who explained in his program note that:
"In his early years, Janacek was strongly involved in the research of folk music (particularly Moravian and Slavic music). At the same time, he was mesmerized by the fact that spoken language has a melodic line. He had an excellent ear, so he was able to catch very subtle details of the melodic lines of speech. Through the years of observing this phenomenon so closely, he was able to transform it into his own musical language. That's what makes him absolutely unique, incomparable with anyone else. His musical vocabulary also incorporates the elements of Czech dances and folk music, yet very seldom does he use actual folk song in his composition. He's just taking the characteristic features of them and transforming them into his own melodic lines."
Scott Quinn as Steva Buryja in a scene from Jenufa
(Photo by: Cory Weaver)
"Sir Charles Mackerras, Janácek's great advocate, used to say that Janácek was actually the first minimalist. His is a very specific style which we still perceive today as very contemporary despite it being a hundred years old. The proof of how unique his style was is the fact that, despite Janácek having had a composers' school in his hometown of Brno (and he had a lot of pupils), no one has continued his path. It was impossible."
Based on
Gabriela Preissová's
play
Její Pastorkyňa (Her Stepdaughter)
,
Jenůfa
is dedicated to the composer's daughter, whose untimely death brought Janacek unfathomable grief. Set in a
19th-century
Moravian village, the opera's title character is a woman who was adopted as a child. The plot revolves around her unfortunate position due to family events that took place long before the curtain rises. As explained by Wikipedia:
"Before the opera begins, the mill-owner Grandmother Buryja's two sons have both married twice, fathered children, and died. Their wives have also died, except for the Kostelnička (widow of the churchwarden), the younger son's second wife and Jenůfa's stepmother. Custom dictates that only Števa, the elder son's child by his first marriage, will inherit the mill, leaving his half-brother Laca and cousin Jenůfa to earn their livings."
Scott Quinn (Steva) and Malin Byström (Jenůfa)

in




a scene from Janacek's opera (Photo by: Cory Weaver)
Although, on paper, Steva (
Scott Quinn
) might seem like a good catch, in real life he's a selfish lout and irresponsible fool with a tendency to drink too much who has (unknowingly) knocked up Jenůfa (
Malin Byström
). Shortly after word arrives that Steva has not been drafted into military service, he returns to the village, eager to celebrate his freedom. But when Kostelnička (
Karita Mattila
) forbids him to marry her stepdaughter until Steva has a year of
sobriety
under his belt, he quarrels with the obviously distressed Jenůfa and leaves. Meanwhile, Laca (
William Burden
), who has loved Jenůfa since they were children), can't understand why she remains loyal to Steva. Furious at the way she continues to defend him, Laca slashes her cheek with a knife, convinced that Steva wouldn't be the slightest bit interested in Jenůfa if she were not so pretty.
Malin Byström as Jenůfa (Photo by: Cory Weaver)
As her stepdaughter's pregnancy progresses, Kostelnička hides the young woman in her home while telling people that Jenůfa she has gone to visit relatives in the city. Obsessed with the shame that will ensue when her stepdaughter's illegitimate pregnancy is revealed, the older woman searches for a way to cover up their desperate situation. Following the infant's birth, she tries to get Steva to take responsibility for his child. When Laca comes to visit, she tells him that the baby has died. One snowy night, as the exhausted Jenůfa sleeps, Kostelnička takes the child and drowns it in the nearby stream.
Several months later, Laca and Jenůfa are about to be married when Steva and his new wife, Karolka (
Julie Adams
), arrive in town. Just before the ceremony is to take place, the dead baby's body is found floating in the river wearing the hat Jenůfa had knitted to keep its head warm. While the villagers are quick to condemn Jenůfa and accuse her of
infanticide
, they are doubly shocked when the stern Kostelnička steps forward to claim responsibility for murdering the infant. The love between Laca and Jenůfa is strengthened by the horrible news and Laca vows to stay beside her, wherever she decides to go.
Malin Byström as Jenůfa (Photo by: Cory Weaver)
Janacek's opera provides two exceptionally strong roles for women. While the title role is often taken by a younger soprano, the role of the wicked stepmother has provided some great late-in-their-career moments for such legendary artists as
Irene Dalis
,
Astrid Varnay
,
Mignon Dunn
,
Sena Jurinac
,
Leonie Rysanek
, and Anja Silja. Karita Matilla had a huge triumph in this production (which almost overshadowed the superlative work done by Malin Byström in the title role).
William Burden was an impassioned Laca with Scott Quinn appropriately pathetic as the good-for-nothing Steva. In smaller roles,
Jill Grove
was a sympathetic Grandmother Buryja while
Anthony Reed
appeared as the Mayor along with
Zanda Švēde
as the Mayor's wife. Members of the San Francisco Opera Chorus did a fine job under the leadership of
Ian Robertson
, with
Dave Maier
acting as fight director.