Long before
Douglas Fairbanks
and
Mary Pickford
were hailed as American royalty, children of all ages dreamt about running away from home to join the
circus
. Whether attracted by a sense of danger, the chance to be near wild animals, or an opportunity to live among
freaks
, the temptation to travel while entertaining the masses burned brightly in many minds.
By the time
silent films
were being screened in neighborhood
nickelodeons
, many of those childhood fantasies had shifted their focus to being "discovered" in
Hollywood
and becoming a movie star. Soon, infectious dreams of fame and wealth spread across the nation, memorialized many years later in such musicals as 1952's
Singin' in the Rain
, 1964's
Fade Out-Fade In
, 1966's
The Apple Tree
, and 1974's
Mack and Mabel
.
It didn't take long for the lure of the
silver screen
to lead to the birth of a huge
public relations
industry built around the entertainment world. Actors and their
press agents
struggled to get their names into (or keep them out of) a growing number of
fan magazines
and
supermarket tabloids
. Once it became known that media outlets would pay for candid photos of
celebrities
,
paparazzi
began stalking
superstars
.
Two extras read a fan magazine and wonder who Mae Feather was as
the former star sits behind them in a scene from 1928's Shooting Stars
With today's electronic media,
cable television
and
social media
feed their followers a steady diet of celebrity gossip filled with rumors of
infidelity
,
baby bumps
, and trips to
rehab
. Instead of hoping to get discovered at a
soda fountain
in Hollywood, aspiring talents upload videos to YouTube and use social media to build their brands in the hope of going
viral
. (
Trae Crowder
a/k/a Liberal Redneck is now being featured on the
New York Daily News
website;
Felicia O'Dell
a/k/a/ Auntie Fee has made numerous appearances on
Jimmy Kimmel
's and
Steve Harvey's
television shows).
The 2016
San Francisco Silent Film Festival
featured two movies from the tail end of the silent era that depict show business couples whose relationships are destroyed by affairs with their professional colleagues. Both films (which are especially notable for their use of light), were backed by remarkable musical performances that intensified the personal conflict and dramatic tensions. The slide show that entertained audiences prior to the screening of 1928's
Shooting Stars
offers a brief history of how Hollywood filmmakers turned to behind-the-scenes stories in the movie industry for tales of lust and murder with which to titillate their audiences.
* * * * * * * * *
During recent seasons, the San Francisco Silent Film Festival has screened restored prints of two of the four silent films made by
Anthony Asquith
: 1928's
Underground
and 1929's
A Cottage on Dartmour
. This year, the festival featured a restored print of
Shooting Stars
(Asquith's directorial debut). As with the previous two screenings, it was accompanied by festival favorite,
Stephen Horne
.
When the film was first released nearly 90 years ago, one critic insisted that "The picture is too modern for the average moving picture patron, who is confronted with the difficulty of carrying in his mind a story within a story and then part of another story within the inside story." That's hardly the case for modern audiences.
Mae Feather (Annette Benson) and Andy Wilks
(Donald Calthrop) in a scene from 1928's Shooting Stars
There's no doubt that
Shooting Stars
has a complex plot that follows the rise and fall of Mae Feather (
Annette Benson
), a temperamental British actress who moves to Hollywood with her husband, actor Julian Gordon (
Brian Aherne
), as she secretly has an affair with the comedic Andy Wilks (
Donald Calthrop
). While co-starring with Julian at Zenith Studios in a
Western
entitled "Prairie Love," Mae concocts a plan to kill Julian by having a real bullet inserted into one of the prop guns on the set. Needless to say, things do not go well.
Julian Gordon (Brian Aherne) and his wife, Mae Feather
(Annette Benson) in a scene from 1928's Shooting Stars
Asquith's first film shows a remarkable level of depth and sophistication for a budding talent. In her article in
The Guardian
,
Pamela Hutchinson
writes:
"While Shooting Stars reveals the entertainment business to be a sham, it revels in the artistry of the cinema, and explores the potential of the form as much as it denigrates the business. It is all about the cavernous gap between what appears on screen and what goes on in the studio. Shooting Stars thrives on the gaps between art and reality, between art and commerce, and Asquith shows this up with a story that is founded on, and resolves itself, via a deceit. One reason that it makes such compelling viewing is the opportunity it gives us to see what a film set really looked like in the silent era. It is a takedown of the film world as cheap and unoriginal, with over-privileged stars whose misbehavior makes a mockery of their fans' devotion."
Poster art for 1928's Shooting Stars

"When Asquith uses his box of tricks to shoot his actors on set at the Zenith studio, the result is a thrilling mashup of cinematic styles. It's a great film: witty at first, always gorgeous, and nail-bitingly tense towards the end. At one crucial moment a very Soviet-style montage sequence is inserted into the cowboy flick, and most successfully of all, in the film's climactic scene, Shooting Stars brilliantly invents a terrifying new genre you could call expressionist slapstick."
Mae Feather (Annette Benson), Andy Wilks (Donald Calthrop),
and Tubby Phillips (Fatty) in a scene from 1928's Shooting Stars
While
Shooting Stars
benefits from some fine character work by
Ella Daincourt
as film journalist Asphodel Smythe and
Tubby Phillips
as Fatty, the real star of the evening is the writer/director. Not only does Asquith know how to frame a Hollywood story as well as anyone up to and including the
Coen brothers
(who wrote and directed 2016's
Hail, Caesar!
), his pacing, camera angles, and lighting are a wonder to behold.
Stephen Horne's uncanny talent for knowing when to remain silent and let the action speak for itself added chills to the film's final sequences in which Mae, reduced to working as a Hollywood
extra
, fails to catch anyone's attention when she is used as an anonymous face in a church service scene. Her slow and beautifully lit final exit drew gasps from some audience members for the skill with which it was crafted. Here's some footage from the restored print:
* * * * * * * * *
The Advocate
recently published a fascinating excerpt from
Clayton J. Whisnant's
new book (
Queer Identities and Politics in Germany: A History, 1880-1945
) entitled
A Peek Inside Berlin's Queer Club Scene Before Hitler Destroyed It
. In this chapter, Whisnant describes some of the
nightclubs
and types of
variety shows
that thrived during the
Weimar Republic
. His writing helps to explain the layout of some crucial scenes in 1925's
Varieté
that were shot in the
Berlin Wintergarten Theatre
.
Directed by
Ewald Andre Dupont
, the film stars the great
Emil Jannings
as Boss Huller, a hulking former
trapeze
artist who, throughout his 10-year prison sentence, has kept silent about the murder he committed. Prior to being released, he opens up and tells his story to the
prison warden
.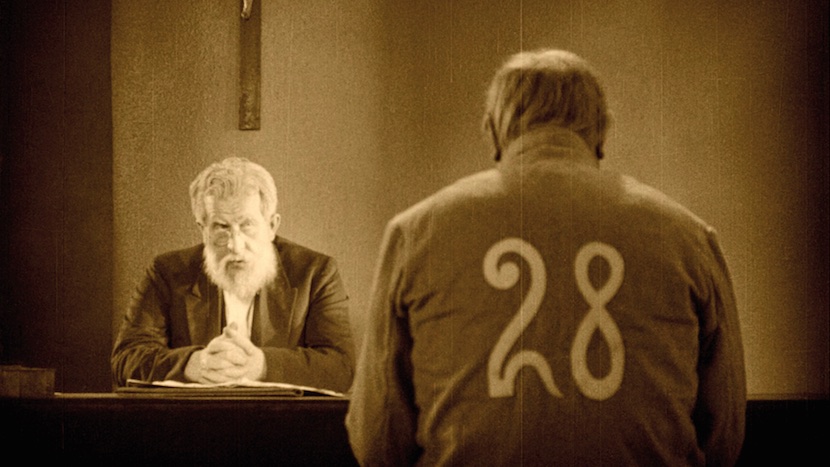 Prisoner #28 (Emil Jannings) confesses his crime to
the prison warden in a scene from 1925's Varieté

Boss had retired from a performing career and was running a small carnival with his wife (Maly Delschaft) when a friend referred a young woman to him as a possible
sideshow dancer
. Soon after he agreed to let Bertha (
Lya De Putti
) perform, her exotic dancing became a local sensation, drawing new audiences and diverting Boss's attention from his family.
Inflamed by Bertha's beauty and thrilled with a new sense of purpose in his life, Boss started to train the young dancer to become a trapeze artist. After a crisis erupted, he left his wife and young child behind and headed for Berlin with his new lover and trapeze partner.
Boss (Emil Jannings) finds new love with
Bertha (Lya De Putti) in 1925's Varieté
Their act soon drew the attention of a leading British trapeze artist named Artinelli (
Warwick Ward
), whose brother had recently died in a trapeze accident. After watching Boss and Bertha perform, Artinelli proposed that they form a new act. Soon, the trio were headlining at the Wintergarten Theatre and enjoying great success.
One night, when he was feeling tired after a show, Boss suggested that Bertha accompany Artinelli to a business-related event. That evening, a spark ignited between the two younger performers. Although Bertha was thrilled just to be out socializing with people closer to her age, Artinelli was sexually attracted to her. His predatory moves led to an ill-fated
love triangle
that spiked the older man's
jealousy
, rage, and lust for
revenge
.
Artinelli (Warwick Ward) corners Bertha (Lya De Putti)
in a seduction scene from 1925's Varieté
The following clip demonstrates the kind of clarity that was achieved during the film's recent restoration (thanks to the
Friedrich Wilhelm Murnau Foundation
) with the recreation of the original
toning
and
tinting
. This beautifully-restored print not only includes material that had been cut by American film
censors
in the
1930s
, but allows audiences to more fully appreciate the beauty of
Karl Freund's
cinematography.
Over the years, the San Francisco Silent Film Festival has become as much about live music as it has about silent film. Since the advent of YouTube, many silent films have been paired with music that does precious little to support the dramatic moment. The following clip, in which Boss murders Artinelli, offers a perfect example of how some of the music added to silent films can seem wildly inappropriate.
Last year was the first time that the San Francisco Silent Film Festival partnered with the
Berklee Silent Film Orchestra
(which is under the direction of three-time
Emmy
nominee and Berklee Professor of Film Scoring,
Sheldon Mirowitz
). If audiences were stunned by the quality of the score Mirowitz's students composed for
F.W. Murnau's
1924 masterpiece,
The Last Laugh
(also starring Emil Jannings), they were completely blown away by what they accomplisheded for
Varieté
, a magnificent film score that could easily hold its own against some of the music composed by
Erich Korngold
and
John Williams
. The proof of their achievement is that
Kino Lorber
purchased the rights to the BSFO's score for
The Last Laugh
and signed a contract to record their score for
Varieté
for its upcoming release of the restored print on DVD.
In the following video clip, Professor Mirowitz explains the process of scoring a film to his students while working on creating a new score for
Harold Lloyd's
1923 classic,
Safety Last!