During a live performance it's easy to get sucked into the tangible aspects of a production (sets, costumes, the decor of a theatre's interior, etc.). What is often harder to appreciate is a performing artist's craft with particular regard to the intelligent use of their vocal endowment.
Like a muscle, a singer's voice is treated like an instrument which must be carefully nurtured in order to ensure the proper placement,
resonance
, and projection of sound required by the music it must sing or the words it must speak. In an age when so much sound is either amplified or reshaped by electronic tools, the phenomenon of an unenhanced human voice can make a wondrous impression on audiences.
In most situations, the unamplified human voice has a warmer and richer tone than one might expect.
In operatic environments, a singer's voice can remind audiences of the sheer physical strength and athletic stamina required to project sound over a large orchestra for a substantial amount of time.
Whether spoken or sung, an artist's voice can give depth to a drama's text with its uniquely personal imprint.
In some cases, the sheer splendor of the voice can leave listeners in a state of awe.
Today's televised
talent shows
offer contestants a chance to impress audiences with a pumped-up sound bite that has been amplified and is limited to a relatively short time span. Such moments can make a splashy impact but have little to do with a mature artist's handle on the craft of projection,
interpretation
, and
musical phrasing
.
This month, audiences at two of San Francisco's leading arts organizations were given the opportunity to hear polished professionals deliver the goods. In one case, an actor's artistry rose above a pallid and occasionally misguided production. In the other, a trio of seasoned performers blew the roof off of the
War Memorial Opera House
with a display of musicianship that brought new life to the opera known around the world as "
Puccini's
shabby little shocker."
* * * * * * * * *
I started writing about the arts in 1977 in San Francisco's
Bay Area Reporter
. Since then, I've often wondered how different my career as a writer might have been if I'd had access to the Internet from the very beginning. Several years after I started contributing to the Arts section of
The Huffington Post
, I encouraged an extremely articulate
Facebook
friend (mezzo-soprano
Susanne Mentzer
) to consider blogging for The Huffington Post in her spare time.
Mezzo-soprano/blogger Susanne Mentzer (Photo by: Ken Howard)
Since then, Susanne's deeply personal contributions have helped to educate the public about the realities of an opera singer's life through her candid discussions of such issues as
domestic violence
and what it's like to pursue an international career while increasingly pregnant. In her post entitled
Now and Then
, Mentzer does an excellent job of describing how her professional life as a
mezzo-soprano
has been changed by today's technology and
social media
. It's a fascinating article, which led one of Susanne's Facebook friends (
Melinda V. McLain
) to post the following comment:
"On Tuesday we saw Tosca at San Francisco Opera and this particular performance also included an #opencurtain during the first intermission with opera staff showing the audience the scene shift while taking questions via #twitter. Being quick to tweet, I asked a question about the locations of the opera vision cameras and when they asked my question from the stage, I introduced myself as @revgirrl to the folks sitting next to us who turned out to be two employees of #twitter who were probably in their late twenties."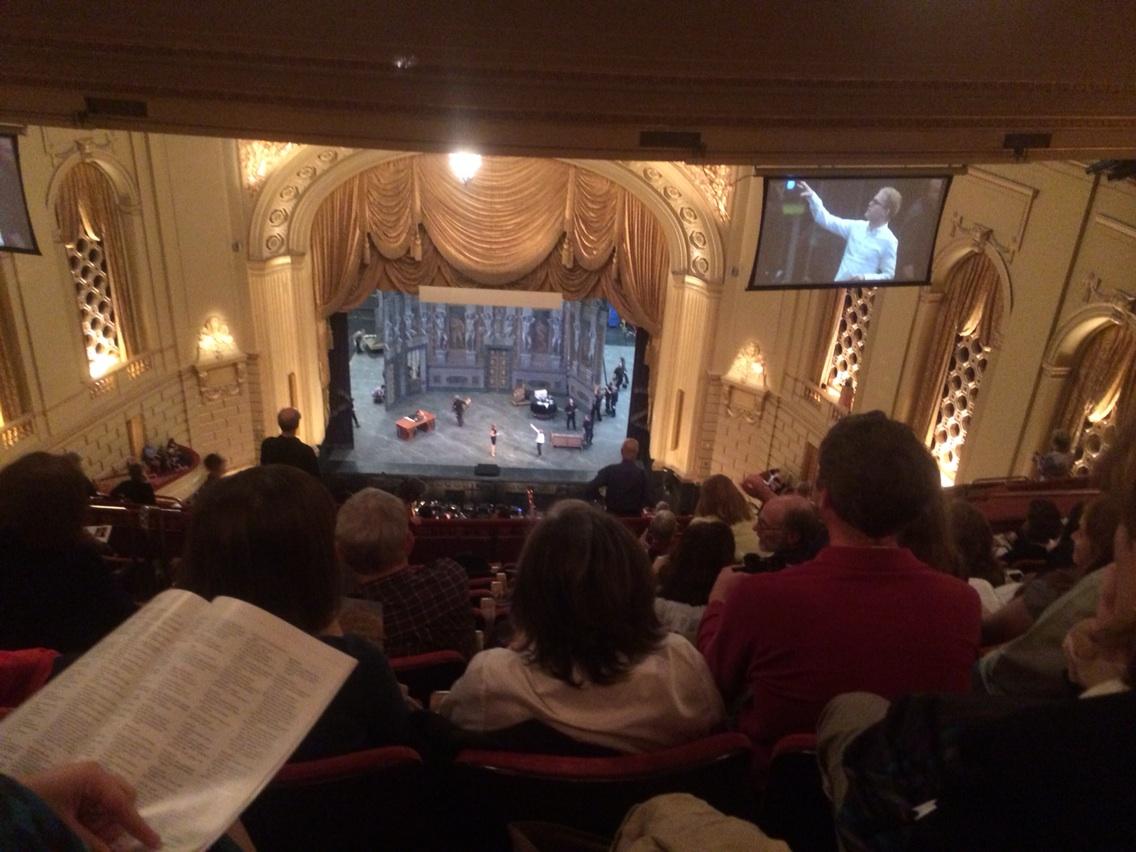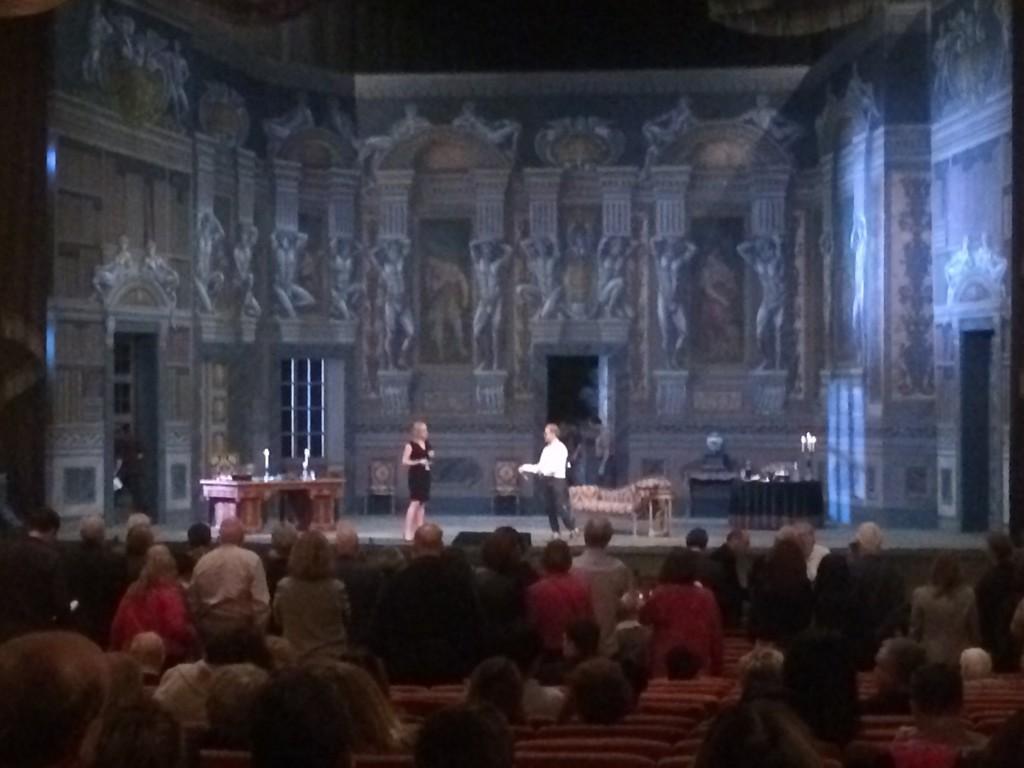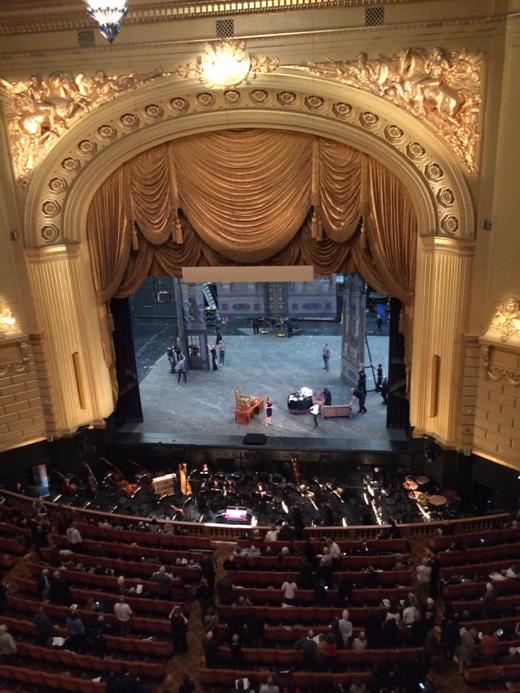 "They asked me if I found Twitter easy to use and I said "yes" and that it is very popular with the opera community -- both fans and singers. So popular that we opera fans on social media have been credited with getting Joyce DiDonato her gig singing the national anthem at the World Series and that I have live-tweeted two productions for SF Opera along with lots of young tweeters who are first-timers to opera. I had already tweeted to the tenor @brianjagde just before the performance and he had responded and I showed them his response that came just before the curtain went up. They were amazed to discover that many singers have their phones in their costumes and easy to access backstage. This is now and you are right on the money about the huge value social media brings to performers and fans alike!"
Brian Jagde as Cavaradossi in Puccini's Tosca
(Photo by: Cory Weaver)
I attended the same performance and was thrilled by the quality of the singing that night. But, in order to appreciate
why
I felt that way, one must realize that I've seen lots of
Toscas
over the years. Some have been great, others have seemed shopworn. Some have been performed by artists at the peak of their powers; others by second-string singers whose best efforts proved to be mediocre.
It would have been easy to anticipate a fairly tepid performance of
Tosca
considering that
Thierry Bosquet's
production was designed to recreate the sets designed by
Armando Agnini
for the performance of
Tosca
which inaugurated the War Memorial Opera House in 1932. Three of the featured artists -- tenor
Brian Jagde
(Cavaradossi), baritone
Mark Delavan
(Scarpia), and bass-baritone
Dale Travis
(Sacristan) -- had appeared in their roles during the November-December 2012 string of performances which were then (as now) directed by
Jose Maria Condemi
.
Mark Delavan and Lianna Haroutounian in Act II of Tosca
(Photo by: Cory Weaver)
What sparked such a compelling performance? I'd credit the work of conductor
Riccardo Frizza
and the electrifying presence of
Armenian
soprano
Lianna Haroutounian
("The big noise from
Yerevan
") in the title role. Haroutounian displayed formidable vocal power without any of the fierce wobbling that creeps into many portrayals of Floria Tosca by other sopranos.
When pitted against Jagde and Delavan (who are both reasonably tall singers), her petite stature added a fascinating power perspective to the evening's performance (in which Tosca seemed like a mouse trapped by a fiercely predatory cat named Scarpia). A convincing actress who knows how to punctuate key moments with her body language, Haroutounian shows all the signs of becoming a truly great international talent.
Lianna Haroutounian as Floria Tosca (Photo by: Cory Weaver)
Jagde (who has appeared with the San Francisco Opera every season since his company debut in 2009) continues to impress as an impassioned romantic lead with a solid, healthy voice who consistently delivers the goods. Delavan (a graduate of the
Merola Opera Program
who sang Wotan in the San Francisco Opera's 2011
Ring cycle
and portrayed Scarpia here in 2004, 2012, and 2014) seems to be relishing his villainy more than ever. Supporting roles were handsomely filled by
Scott Conner
(Cesare Angelotti),
Joel Sorensen
(Spoletta),
Efrain Solis
(Sciarrone), and
Hadleigh Adams
(the Jailer). Here's some footage from the production.

* * * * * * * * *
For the sake of disclosure, let me get some critical bits of business out of the way before describing what I actually did like about the
American Conservatory Theater's
new production of
Testament
.
The setting of Colm Toibin's monologue (based on his 2012 novel, The Testament of Mary) is supposed to be "now" and in "a space." The "woman" who speaks his words refuses to divulge her name and utter the name of her dead son. It's pretty obvious to anyone attending the performance that the woman is the Virgin Mary and her son's name is Jesus. For the sake of argument (and considering the fact that a folding bridge table is one of the production's sole props), I asked myself what kind of box office appeal Toibin's play might have if the mother's name had been "Beulah" and her son's name "Osama." Sales might have plummeted.
As a Jewish atheist, I'll freely admit to a certain bias against Christianity's powerful propaganda machine. I don't get particularly excited by plays and operas that attempt to explore (yet again) the life of Christ. In 2013, the San Francisco Opera's world premiere of Mark Adamo's The Gospel of Mary Magdalene was the dreariest snooze fest imaginable. If anything, as part of the dramaturgy surrounding any stage presentation about Christianity, I would urge audiences to read How To Suck At Your Religion instead.
The ACT production's sound design by Will McCandless included the most unnecessary foisting of incidental music (which was apparently intended to evoke the tones and textures of an Aeolian wind harp) upon a fragile monologue that I have encountered in five decades of theatregoing. Not only did it undermine (rather than enhance) the monologue, it distracted the audience from the artist's delivery of Toibin's text. The incident reminded me of my tour of the Copper King Mansion in Butte, Montana. Amazed to see some plastic fruit sitting in a beautiful bowl prominently displayed on a dining room table, I asked the host/docent why they had cheapened the bowl's aesthetic appeal by adding plastic fruit. Why hadn't they just left the bowl empty so that people could appreciate it as a piece of art? His shocked response was that no one knew they could leave the bowl empty -- they thought it had to contain something and all they could find was the plastic fruit!
The dining room of the Copper King Mansion in Butte, Montana
To my mind, the most important element of
Testament
is not the story of Mary but the craft and grace of Toibin's writing. As the author explains:
"I hate being called a storyteller, because I'm a novelist. In other words, I hold and wield textures and tones in language. If you think that it's natural for me to do this, it is not. I don't come out of an oral tradition. I come out of silence. I mean that what I noticed most in my childhood, or even in my adulthood, were the silences between the words, the things that were not said, the reason why the story was told: so some other story that was more true might not be told.

She [the woman ]was alone, old, in a house, and afraid. That image. And then the voice which reflected that. The tone staccato, heightened. Both fearful and fierce. I had to create a tone for her that would capture the reader's imagination, enter the reader's spirit, and do the same to a live audience. It's my job to tell that story. If I bogged the thing down in period detail, I would lose the immediacy."
Seana McKenna in Testament (Photo by: Kevin Berne)
As one listens to the woman's monologue (magnificently delivered by
Canadian
actress
Seana McKenna
), one can easily imagine what got the production's
stage director
,
Carey Perloff
, so excited at the thought of working with such material. Toibin's use of language is often gorgeous, the work of a master craftsman whose ability to paint pictures with words can stimulate an audience even if, in the long run, it also starts to bore them. Perloff states that:
"I'm interested in how history gets written, and how history always belongs to the conqueror. That means that women, for the most part, are rarely the writers of history -- just as people of color and other marginalized groups are rarely the writers of history. To me, this play is about an ordinary woman who watches her son get co-opted by terrorists, by extremism, and how she tries to navigate that. We always get history from the perspective of the victorious, so it's fascinating when a woman tries to claim that for herself to say, 'This is how it happened as I see it.' Seana has that amazing combination of charisma and vulnerability. She can look like an absolutely ordinary human being, but she has those piercing blue eyes, that ferocity of spirit, and that wonderful voice. I would jump at the chance just to be in the room while she reads the phone book."
Seana McKenna in Testament (Photo by: Kevin Berne)
There's no question that McKenna has refined her vocal instrument into a formidable dramatic tool. Sometimes, when the subject matter of a play or opera is less than thrilling to me, I find comfort in listening to what a performer can do with her voice to bring an author's text to life. Particularly in a monologue, that's where much of the magic is to be found.
In the following interview from 2009, McKenna chats with the recently embattled
Jian Ghomeshi
about her craft, the choices an artist makes when performing difficult roles like
Medea
, and what it means to be a theatre animal. Much of what she says is equally applicable to her work in
Testament
.